Here are the updates on my 1968 Honda Vtec B18c4 turbo mini conversion, I'll add photos as I go along with the engine swap which will hopefully help other people 🙂
A great forum is the 16vminiclub website, which can be found at http://www.16vminiclub.com/forums. Almost every question imaginable has been answered on there, so please check it out 🙂
Classic mini Vtec Turbo – one year on
Sunday, 18 September 2011 09:33
Here are the updated photos of my classic mini fitted with a Honda Civic 1.8 vtec turbo engine. It's been to a few shows and Santa Pod drag strip in 2011.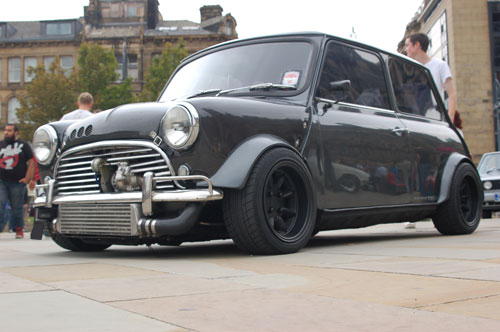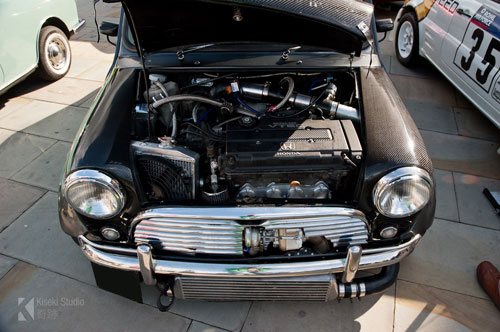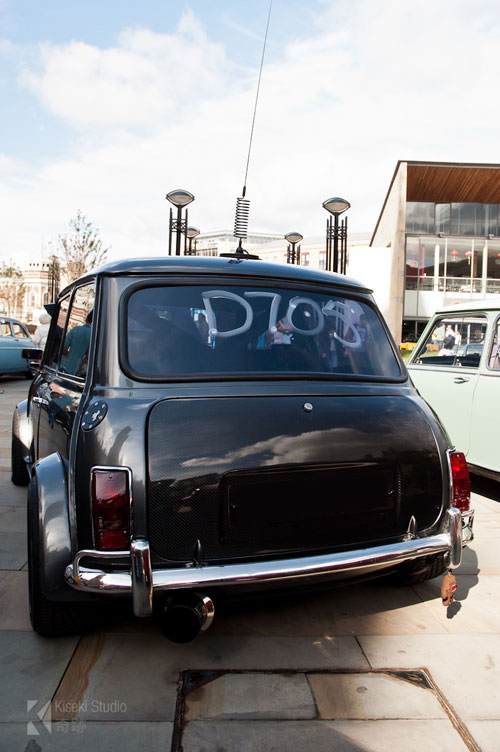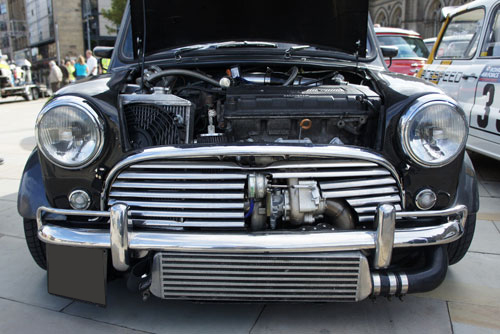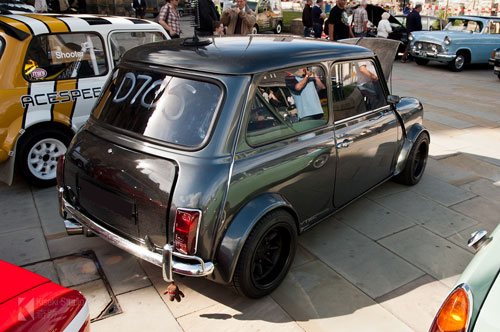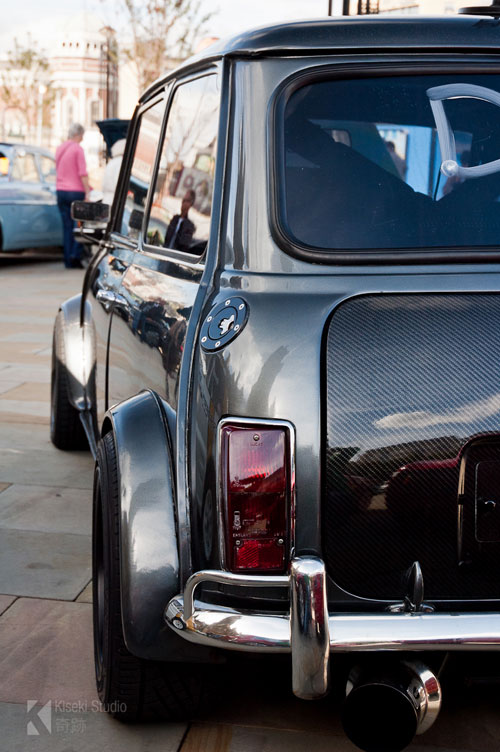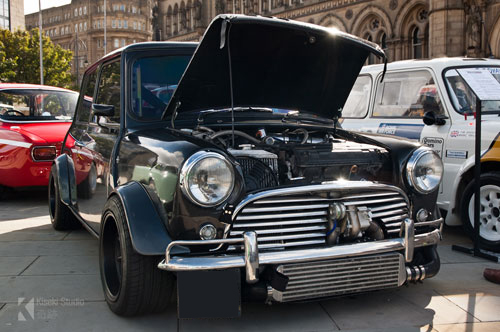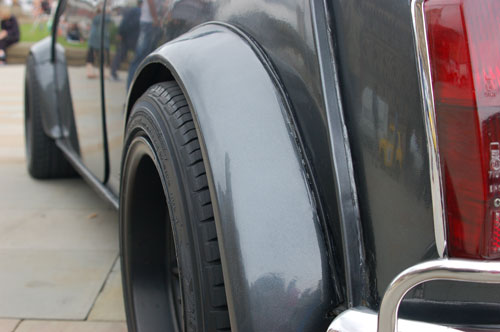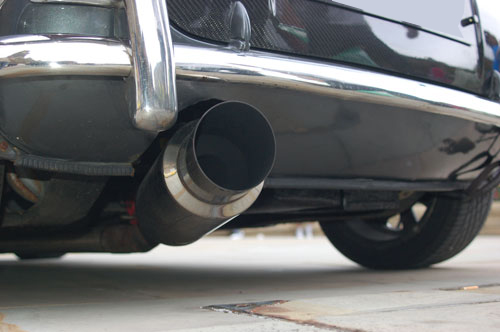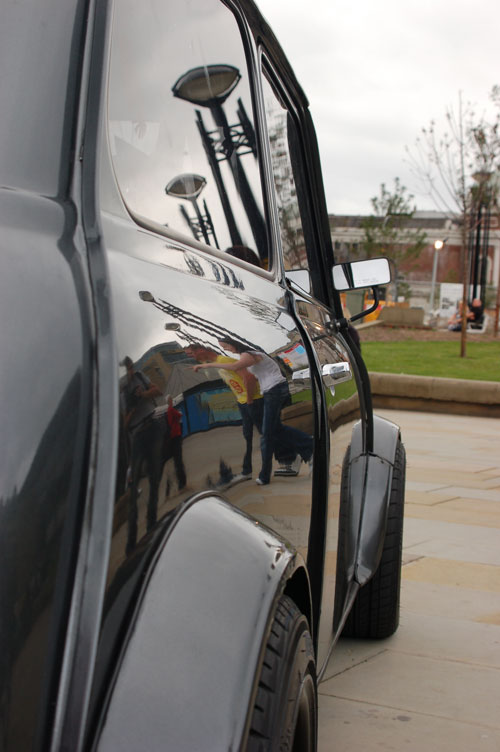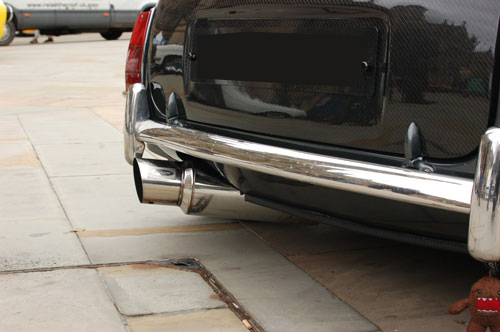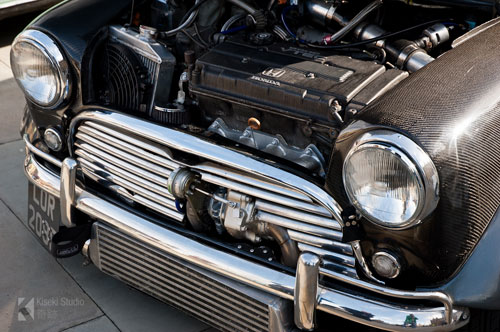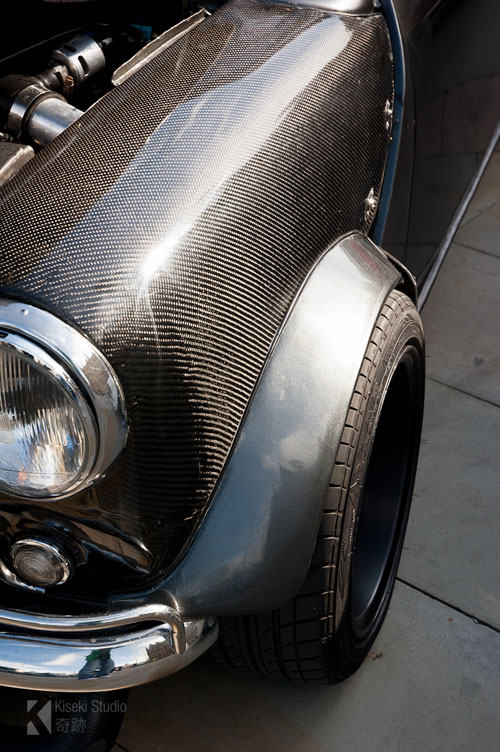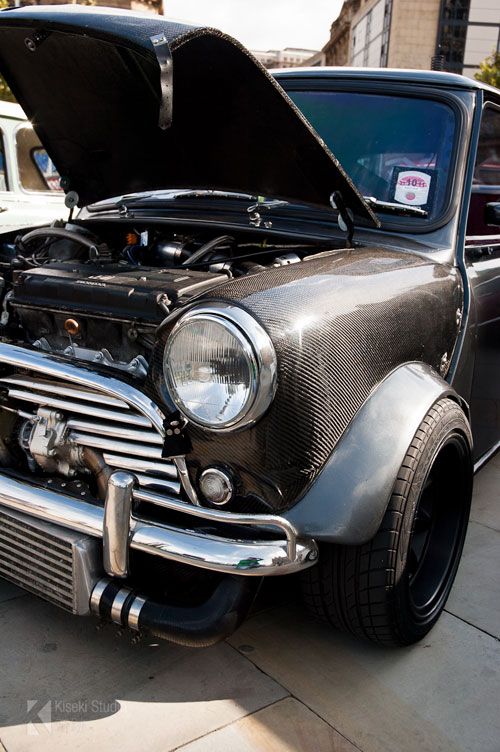 A special thanks to Kiseki Studio (Richard Raw) for his photos taken here at the Bradford Classic show 2011.
Vtec Turbo Mini – Rolling road tune up!
Friday, 08 July 2011 21:38
Here is a video of my Vtec Turbo mini fitted with B18c4 engine on the rolling road tune up, the final figure was 399bhp at the flywheel. The fastest run before detuning was 460bhp!
Engine rebuilt! Back on the road 🙂
Friday, 17 June 2011 12:11
The mini is running again! hurray!
With a rebuilt engine, new headgasket, and new upgraded low compression pistons at the same time!
Shiney new b18 low compression pistons: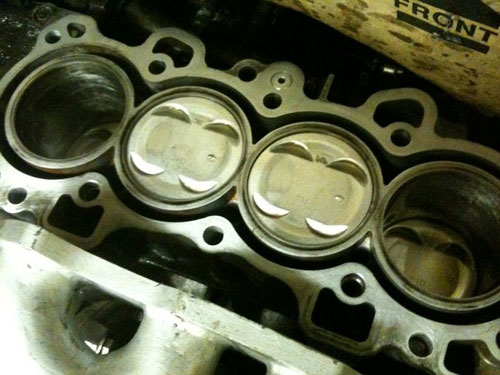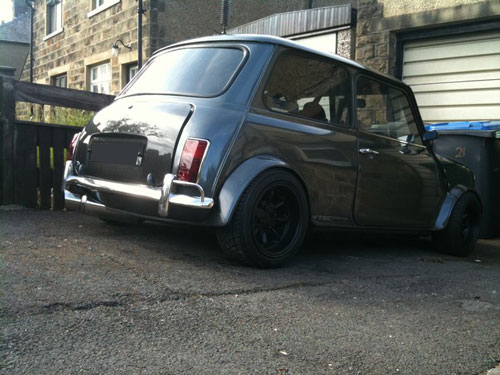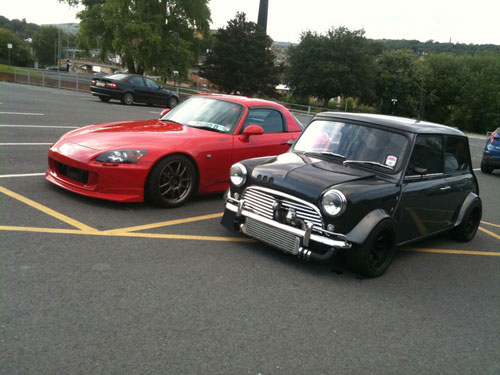 New grill for the Vtec Turbo mini!
Thursday, 18 November 2010 23:52
I've made a new grill for my Vtec turbo mini, here it is!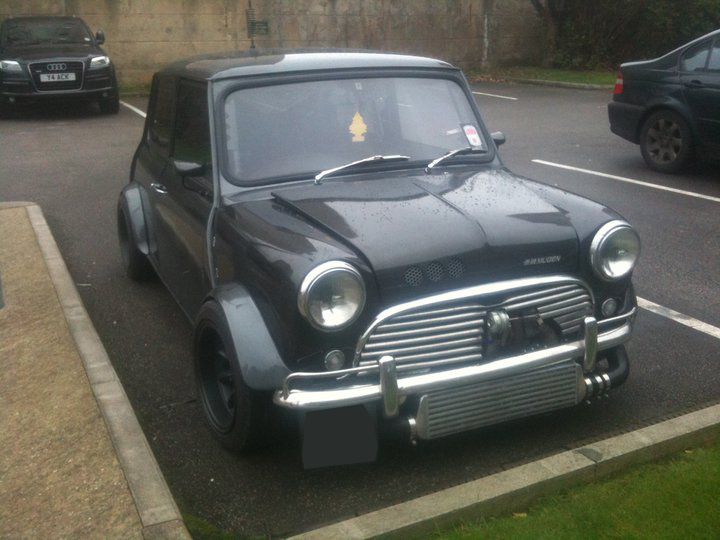 Ive had lots of teething problems over the last month, and lots of little tweaks to make, but its making a great daily driver for the moment until i see the first gritter, then it will be stragiht back in the garage until next summer!
Vtec Turbo Mini – On the Road
Monday, 01 November 2010 12:20
At long last, two years of hard work, my Vtec Turbo classic mini is running! This weekend has been full of sorting out lots of little teething problems, getting the remote central locking sorted, sorting where the wheels were catching, re-doing the dashboard etc etc…. lots of stuff!
I will follow up this with a video very soon! It spools very loud, very happy with the sounds from the turbo!!!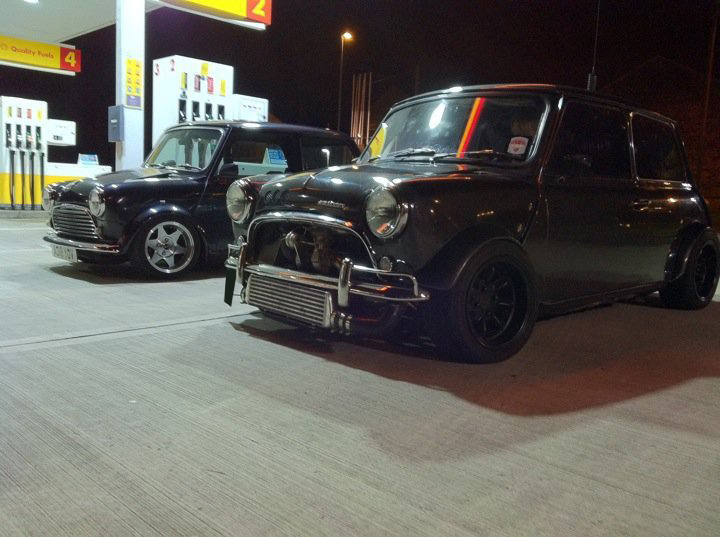 Almost ready for MOT!
Wednesday, 22 September 2010 13:59
Hey everyone! ive fitted my silicone hoses, its all up and running, ive adjusted the clearance issues and im currently working on the dashboard… but my Vtec Honda Turbo mini is almost ready for a test drive!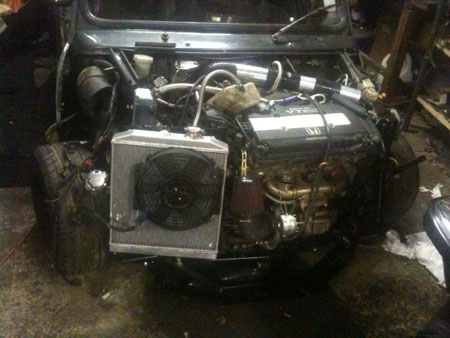 …videos and more pics to follow 🙂
Bottom brace bar welding up and mugen!
Saturday, 14 August 2010 01:06
Ive finally fitted the honda civic radiator properly along with an electric fan, ive also been working on an extra crossbar to go under the front panel, welded onto the Allspeed subframe.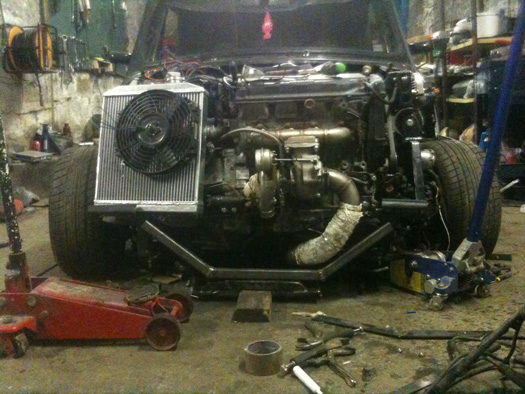 Ive also added some stickers… look closer you will see the Honda dealership stickers 🙂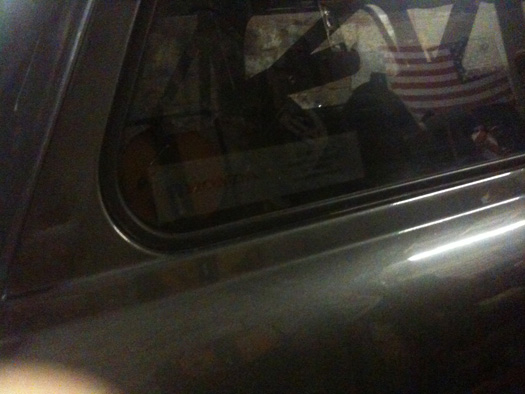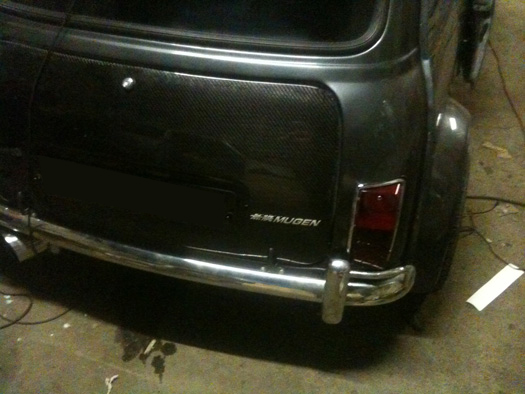 Civic Radiator mounted
Wednesday, 11 August 2010 11:11
After loads of hard work, modifying the allspeed frame and head scratching, ive managed to fit a Honda Civic radiator into my mini, i bought one of the cheap online alloy Civic Vtec radiators and im very impressed with the quality. It was only cheap, but the welds are good and they have a goodwrite up on the forums.
So out came the dremel, and more carbon fibre got cut to pieces… and theres still good space for a slimline fan 🙂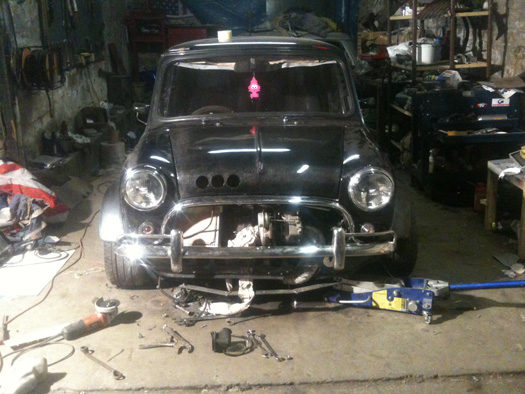 Mini vtec progress from July… Sump baffles welded in and allspeed subframe modified…
Sunday, 08 August 2010 00:29
The Honda Turbo Vtec conversion is taking much longer than expected, one step forward, two steps back at the moment!
My sump rusted though, so i replaced it, and at the same time i welded in some baffles too: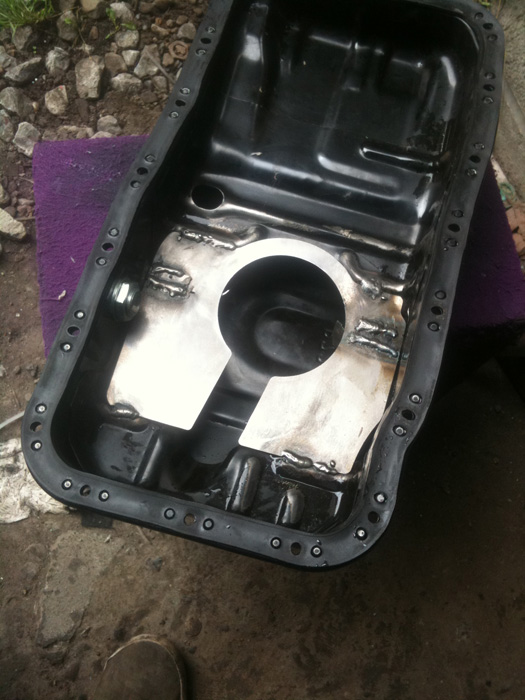 I also decided that i needed to fit in a bigger radiator, which is impossible with the Allspeed mini subframe. I had to modify it by cutting out the bar like this: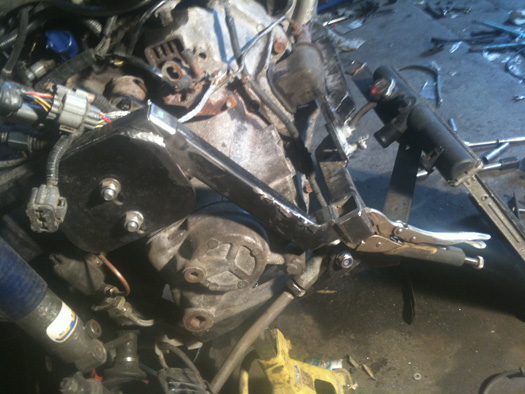 I cut the bar, flipped it round and rewelded it in place. I now have enough space to fit in a Honda Civic full radiator.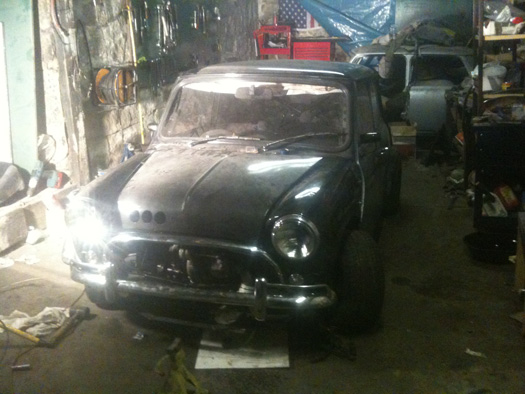 Progress with the vtec turbo mini July 2010…
Friday, 23 July 2010 12:17
Ive not been able to update progress as its been hectic with the build! Here are some update photos… let let the photos do the talking 🙂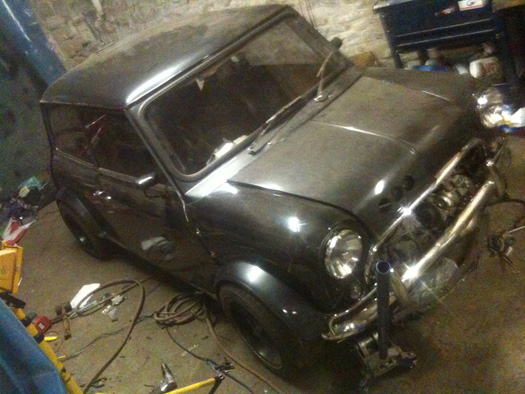 arches fitted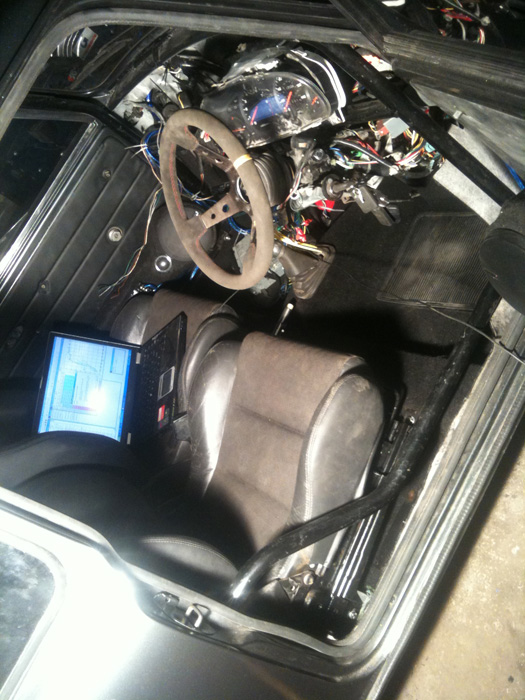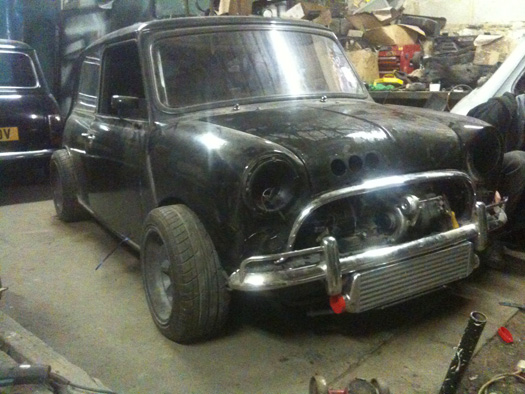 Progress with the mini vtec… JL Audio W7 Sub, timing belt and carbon fibre
Monday, 10 May 2010 13:16
Ive havent had much spare time to spend on the mini, but i have spent the odd few hours working on it, and still planning to have it on the road for this summer:
heres some photos and an update: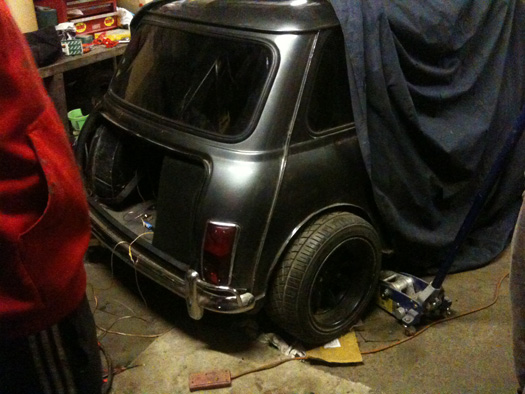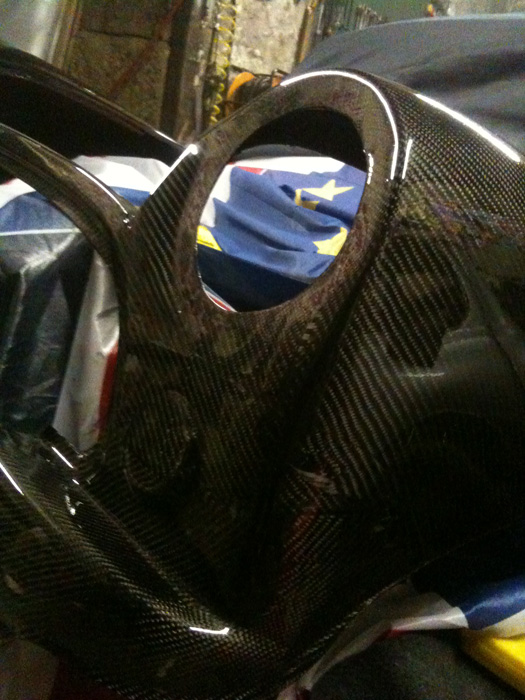 Laquered my carbon weezel carbon front end, looks great 🙂
Radiator mounted in my mini vtec turbo!
Thursday, 29 April 2010 22:44
Phew… that was hard work! theres only just enough space to mount a mini radiator and slimline fan in my mini, i got the biggest fan i could. Im going to be replacing the radiator with an alloy radiator, i just need to save up to buy one!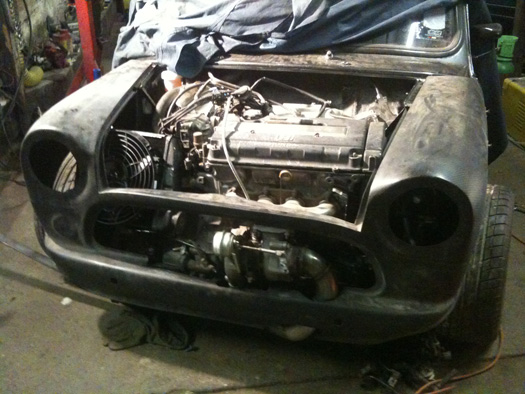 read more to see more photos 🙂
My alternator mount
Thursday, 29 April 2010 22:28
I have been working on mounting the alternator on my Vtec Turbo mini build, i am using a smaller than standard Denso alternator and im mounting it above the engine mount as there is not enough room arround the front of the engine. Mounted here, the alternator will move with the engine and the alternator will be adjustable too. Photos are below.
And this is with the alternator fitted: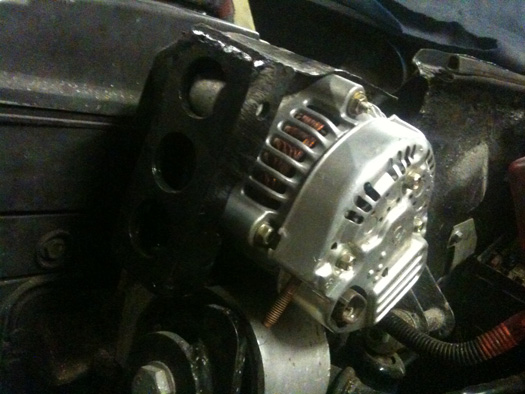 My Mini front speaker fibreglass door builds
Thursday, 29 April 2010 22:11
I have been working on the wooden framework for my custom speaker door builds for my mini. Im making some fibreglass door pockets which will hold my JL Audio front components, but space is very limited between the roll cage and the seats making it difficult to fit everything in.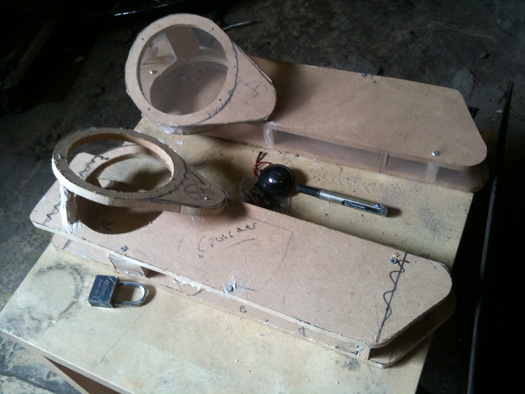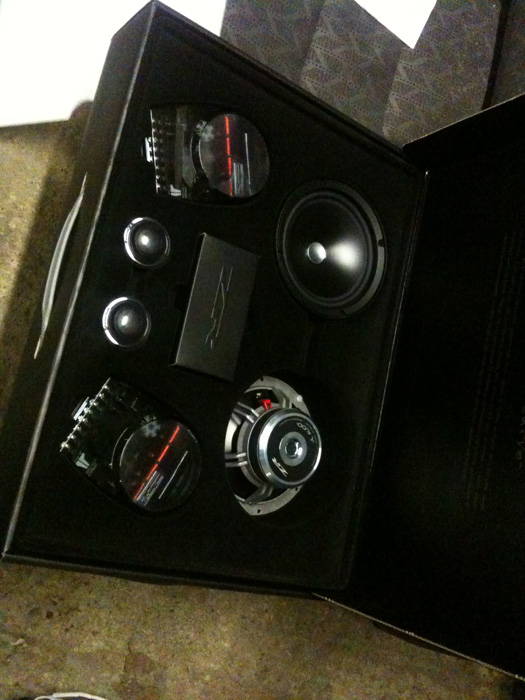 My JL Audio ZR650 front component speakers bought from Safe and Sound in Keighley. Full spec can be read here:http://www.safensound.co.uk/jlaudiojlaudioevolutionzr650csi65225wcomponentspeakers-p-1260.html
Overall i am very happy with the shape and direction of the speakers which point directly at the passengers. I will update when i have attacked them with fibreglass!
These are my Soundstream amps i have for my sound install. The model numbers are TA500 and TA880 and new they cost £1500 each!!! They're extremely heavy so ive made up these brackets to mount them in the rear seat area, it will also help balance out the weight of the overall mini.
Ecu questions
Monday, 12 April 2010 17:09
hi everyone,
im having problems with my ecu, i bought a hondata s300 ecu from a member on ebay called importworkz and cant get it to plug in,
heres my original ecu inside: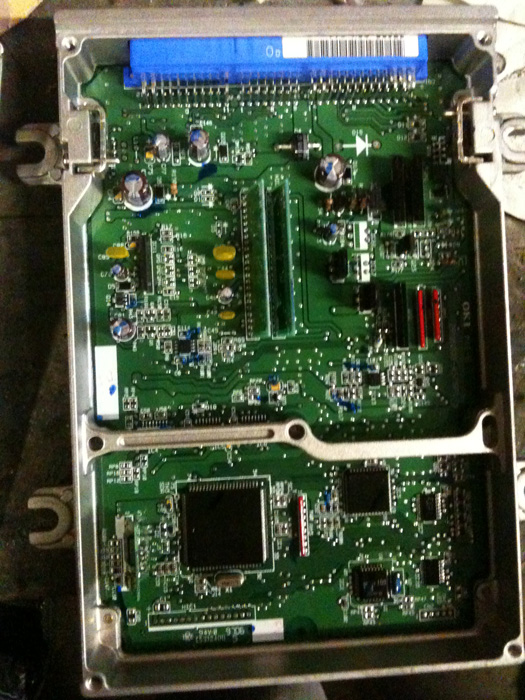 heres my ecu i was sent: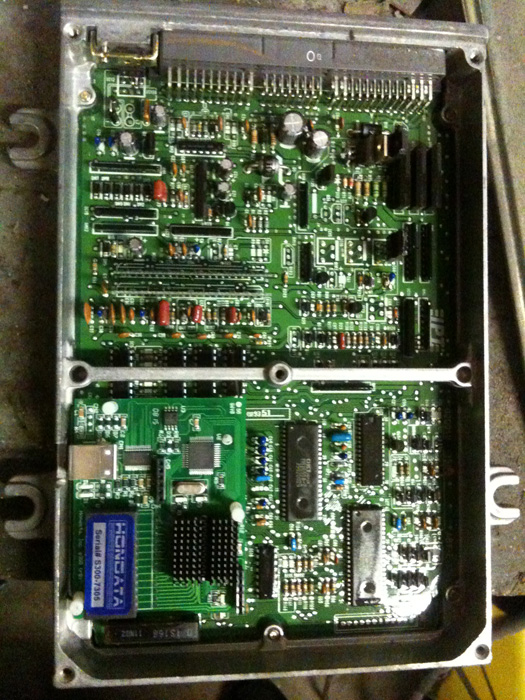 heres the two connectors with the differences circled in red: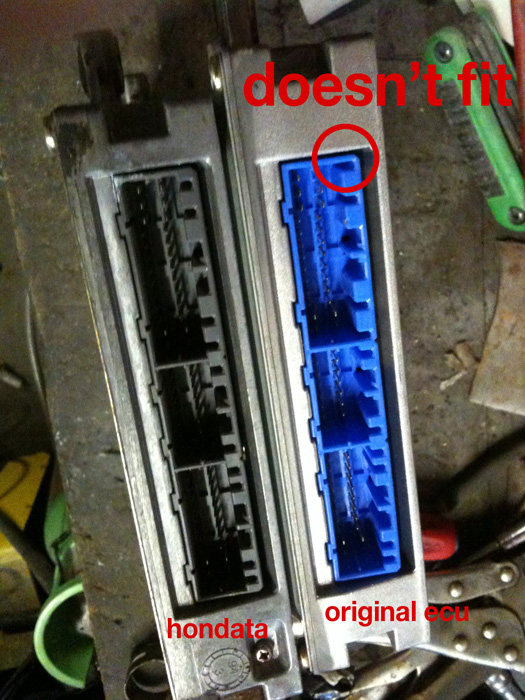 can anyone tell me, if i cut off the tab on the plugs so it connects will it be ok?
thank you
james
Update – thank you for the feedback! The Uk spec car uses and OBD2 plug on an OBD1 system, once i knew this it was easy to work out, thanks again!!!
Finally chose the colour for my mini!
Wednesday, 31 March 2010 17:06
After loads of decision making and changing… i finally decided on the colour code for my mini!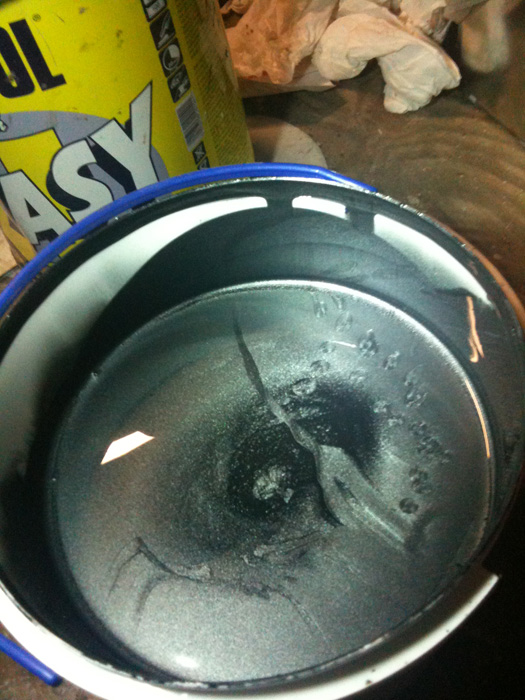 The colour i have chosen is that of the new Audi TT RS.. and it goes from silver to grey to charcoal, its not cheap though at £55 a litre! Cant wait to paint it now just waiting for some better weather
Wiring honda loom fun!
Tuesday, 30 March 2010 14:12
Isn't wiring great! this is the bit most people dread, but luckily i have the whole Honda Civic loom to play with to try and fit into my mini!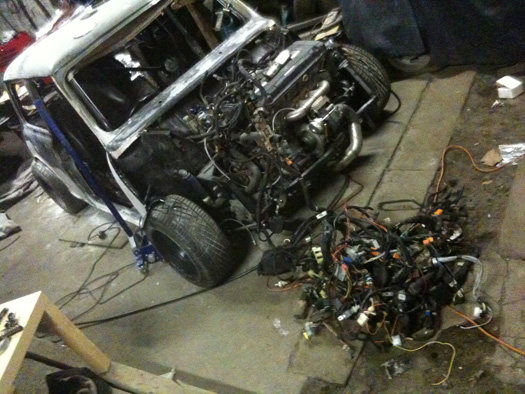 My mini in primer!
Tuesday, 30 March 2010 13:53
After almost a year of hard work doing the bodywork, cutting out rust found under mountains of filler, i have finally been able to paint my mini in primer!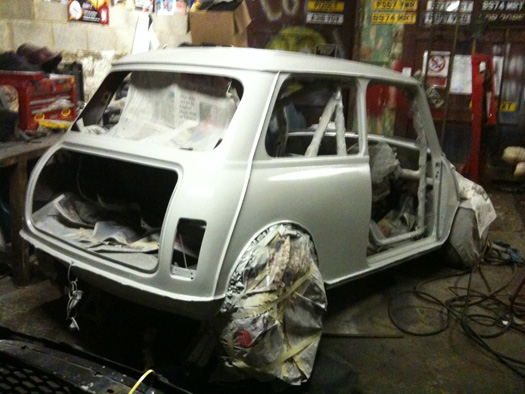 THE BEGINNING: Putting a Honda Civic 1.8 B18C4 engine into a mini
Tuesday, 30 March 2010 13:42
I am starting a build diary blog of my conversion of putting a b18 honda vtec engine into my 1968 mini. Its a little bit late to be starting this diary now, but im hoping that these photos and images may help other people along the way 🙂
Before: