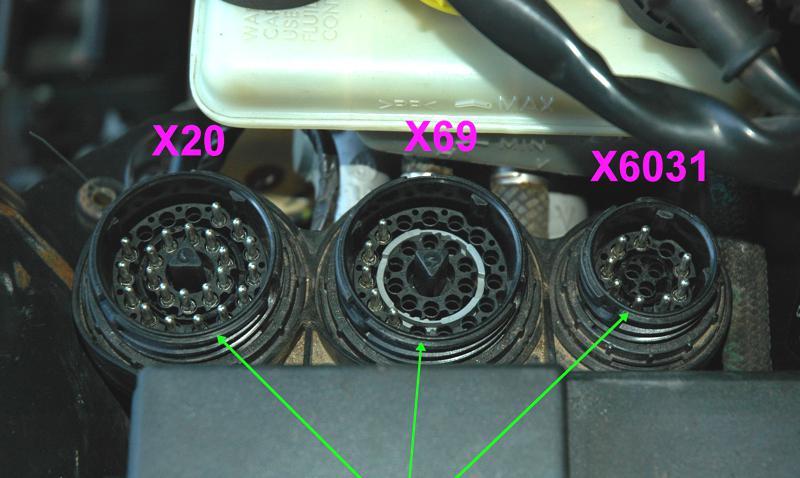 braun BR = brown
blau BL = blue
rot RT = red
gelb GE = yellow
grau GR = gray
schwarz SW = black
weiss (weiß ) WS = white
grun GN = green
orange OR = orange
rosa RS = pink
violett VI = violet
1
Blue
Charge light
pin 16 blue plug inst cluster
2
Green/Yellow
Static oil level
Pin 16 check panel
3
4
Brown/Purple
Temp gauge
pin 26 blue plug inst cluster
5
Brown/Green
Oil Pressure light
pin 18 blue plug inst cluster
6
Green/White
Oxygen sensor relay
Fuse 9
7
Green
Switched power
Ignition switch
8
White/Black
Fuel rate input
pin 11 blue plug inst cluster
9
Black
Engine speed input
pin 7 blue plug inst cluster
10
Blue
Dynamic Oil level
pin 20 Check Panel
11
White/Green
Reset service lights
pin 22 blue plug inst cluster
12
Grey
Check Engine indicator
Check Light
13
Green/Purple
fuel pump relay
fuse 11
14
Black/White
Speed signal out to ECU
pin 10 white plug inst cluster
15
Black/Green
Unloader relay
pin 1 blue plug inst cluster
16
White/Black
Diagnostic connector
Diagnostic plug pin 6
17
18
Black/Yellow
Start
Ignition switch
19
20
Red/Yellow
ABS power
ABS control module
From wiring schematics:
My own X20 workign outs (for diesel functions:) pg 32 diesel functions
X20 E34 side of the colours:
Gn to Gn power from ignition position 2
Gn/violet to Gn/violet feed pump relay
White/Black to White/Black DDE to Instrument Clustor
Black/White to Black/White DDE to Instrument Clustor
Red/White to Red/White ABS
Black to Black Instrument Clustor (has engine speed input)
Brown/Black to Brown/Black Gear selector/EGS
Violet/Gray to Violet/Gray Automatic CLimate Control
Brown/violet to brown/violet remote thermometer sensor
Black/yelowto black/yelow starter signal
Black/Green to black/green general module, on board computer, climate control
possible pins: – x20 pin 25 – alternator charge problem light – when the chassis side is grounded, it will turn on the light on the gauge cluster (could use for glowplug light?)
X69:
Brown/Grey to Blue/White Brake light switch/DDE control unit
Blue/Brown to Blue/Brown Clutch Switch
Brown/White to Brown/White Gear Selector EGS Control Unit
Blue/Red to Blue/Red Brake light switch (cruise conrol function)
Black/Gray to Black/Gray Auxilery Fan
Brown Yellow to Brown Yellow Preheaters
wrong engine, but some helpful wiring colours: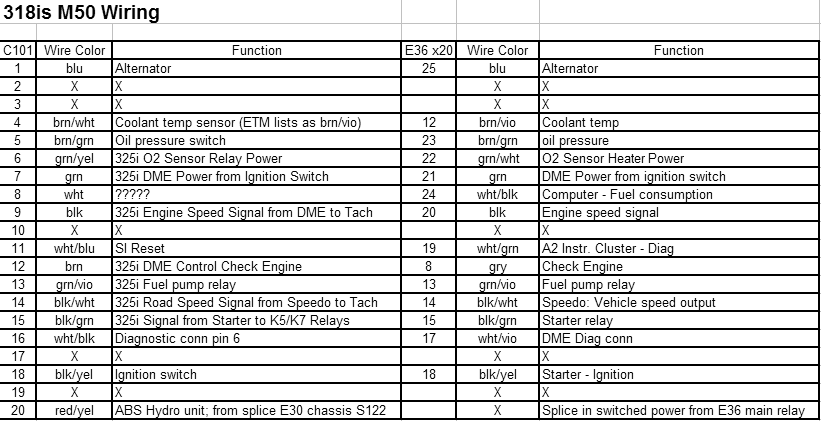 ..
x101 pinout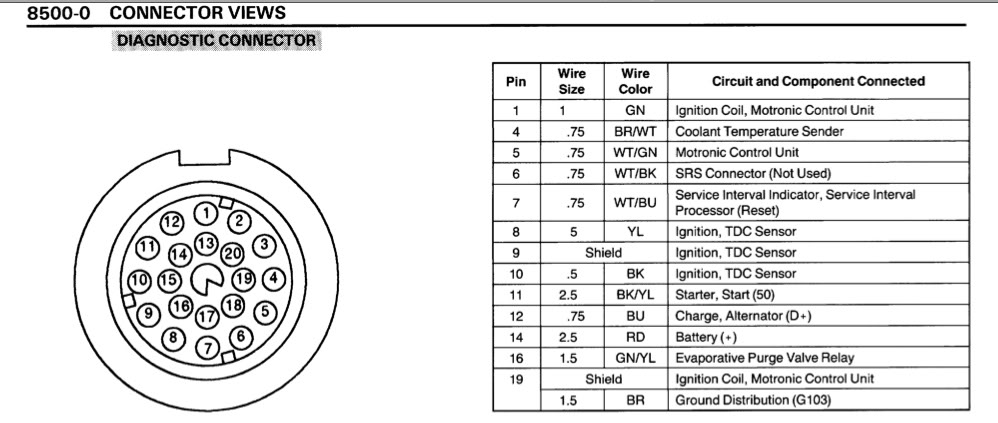 e30-e36 (function)
1-25 alternator
2 oil level static (not used on e36)
3x
4-12 coolant temp
5-23 oil pressure
6 e30 o2 sesnor relay power, e36 o2 relay hot at all times
7-21 Starter input (2 wire on e30 I believe
8-24 fuel rate
9-14 Tach
10 dynamic oil level (not used on e36)
11-19 SI reset function
12-8 check engine light
13-13 Fuel pump relay
14-20 speed output
15-15 unloader relay
16 SRS diagnostic connector, not used
17x not used
18-18 Starter
19x not used
20 ABS (attach as described in above post)
I was unable to get my code reader to work with the last diagram I came up with.
Here is my new list.
1-25
2
3x
4-12
5-23
6-22
7-21
8-24
9-20
10
11-19
12-8
13-13
14-14
15-15
16-17
17x
18-18
19x
20-abs.